Title: Less Than a Gentleman
Author: Kerrelyn Sparks
Publisher: Avon, HarperCollins imprint
Release Date: July 2, 2013
Rating:
4.5 out of 5 stars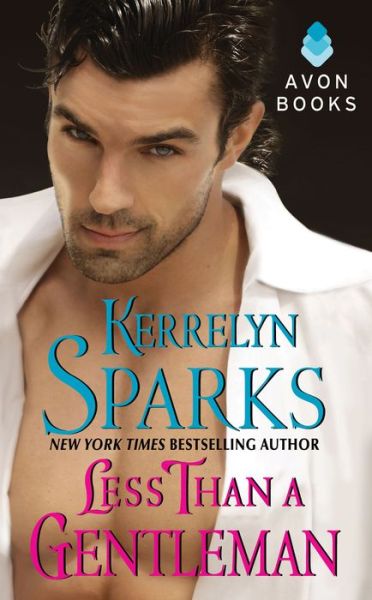 From the book:
In this never-before-published historical romance, New York Times bestselling author Kerrelyn Sparks returns to the 18th century, where the fight for freedom is as dangerous as the fight for love.
Between searching for the missing Munro sisters and South Carolina being all but lost to the British, Captain Matthias Thomas has more important things to worry about than finding a bride. But his mother has other ideas. When Matthias finds a beautiful woman in his bed who claims to be his betrothed, he is suspicious of her identity … and determined to discover the truth.
Caroline Munro had few options. The British burned down her home, and now, traveling with her very pregnant sister, Caroline is pretending to be someone she's not so they can have a safe place to rest. But she didn't count on a matchmaking matron or her rogue of a son … and certainly never dreamed she would fall in love with a spy.
My review:
Kerrelyn Sparks has veered out of her usual genre to write LESS THAN A GENTLEMAN, a romance novel set in Colonial America during the Revolutionary War.
Personal disclaimers: I've steered clear of Kerrelyn Sparks only because of her usual genre - vampires. (I'm not a vampire story kind of girl.) I've never before read her, although I'm well-acquainted with her name on book shelves. When I was given this book, I was hesitant, but when I read the cover copy ("From the book," above), I was intrigued. I've never read a Revolutionary War romance novel; truthfully, they aren't usually on the forefront of bookstore shelves or in blog reviews that I've seen.
The story starts out fast, and continues that way throughout the novel. There's action - a lot of it - because the hero, Matthias, is fighting the Brits from the bogs of South Carolina. Sparks doesn't linger on the bloody scenes, but each time there is death (and there's a lot of it, much more than a typical romance novel), we're reminded how brutal a time it was. Rather than detract from the romance, these reminders actually helped me to believe these two characters could quickly fall in love - time was short and it was important.
Matthias is a complex hero, whose sense of honor is only trumped by the need to protect those he loves (including his mother - his relationship with her is one of the best mother-son ones I've ever come across in a novel). He's respectful, he's funny, and he's realistic.
Caroline is also one of the most realistic heroines I've come across in historical fiction. She's someone I'd want as a friend - determined, loyal, and fiercely protective of the ones she loves. She has extreme guilt about lying to the lady of the house (Jame Thomas, Matthias's mother) about her identity, and you can really feel it. But, you also understand why she's lying; Caroline is traveling with her very pregnant sister, and her niece and nephew. Protecting them comes before the truth.
I won't go into the plot very much, but I must say this was a well thought-out book. It was intriguing, it was smart, and it was exceptionally well-written. The characters stayed true to the time period without becoming overbearing; the descriptions of the redcoat/Colonial interactions kept pace with the plot and didn't wander into overly-historical territory. It's clear that Sparks researched the time period and the war, yet knew enough to include only those realistic details that would add to her story instead of overwhelm it.
The best thing about this book is that Sparks simply expected that I, the reader, am intelligent. This isn't a typical historical romance novel - it's a tribute to the type of men that lived and died for their country, and the women who dared to love them. Fantastic read - I strongly suggest it. (Especially if you've never read a Revolutionary War romance novel before!)
Disclaimer:
I was provided an ARC (Advanced Reader's Copy) of this novel by the publisher in exchange for an honest, unbiased review. ARC received from Edelweiss, for download to my Kindle.