Today, I welcome Catherine Mann, who gives us an insight into winning the RITA Award for her book, TAKING COVER. The RITA Award is the highest honor the Romance Writers of America gives to romance authors. Welcome, Catherine!
~~~~~~~~~~~~~~~~~~~~~~~~~~~~~~~~
TAKING COVER, the second book in this month's 2-in-1 reissue, won the prestigious RITA Award for Best Long Contemporary Romance in 2003. Catherine Mann is not only a RITA Award winning author – but also a six-time RITA finalist. For those who many not know, the RITA Awards are presented annually by the Romance Writers of America. The RITA is the romance writing world's equivalent of an Oscar/Academy Award.
Here are some photos from the big RITA win!
Catherine Mann giving her acceptance speech, trembling so hard she dropped her speech under the stairs on her way to the podium
Catherine with her military flyboy husband.
Catherine with the editor of TAKING COVER, Melissa Jeglinski
Celebrating with author friends! L to R: Holly Jacobs (Harlequin & Montlake), Nancy Warren (Harlequin & Kensignton), Catherine Mann (Berkley, Harlequin, & Sourcebooks), Joanne Rock (Harlequin), Danica Favorite (Love Inspired)
L to R: Christyne Butler (Harlequin author), Catherine and her Air Force husband
RITA Award all tucked in!
Original covers for GRAYSON'S SURRENDER and TAKING COVER, with the new cover for the 2-in-1 reissue in the middle.
About the Author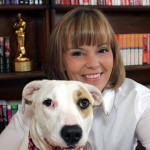 USA Today bestseller Catherine Mann and RITA Award winner, Catherine writes contemporary romance for Berkley, Harlequin, and Sourcebooks. With over two million books in print in more than twenty countries, she has also celebrated five RITA finals, three Maggie Award of Excellence finals and a Bookseller's Best win. A former theater school director and university instructor, she holds a Master's degree in Theater from UNC-Greensboro and a Bachelor's degree in Fine Arts:Theater (with minors in both English and Education) from the College of Charleston. Catherine and her flyboy husband live on the Florida coast where they brought up their 4 children – and still have 5 four-legged, furry "children" (aka pets). Catherine is an active volunteer with her local Humane Society, serving on their Board of Directors and fostering puppies and special needs dogs (she stopped counting at a hundred). She recently checked off a major item on her "bucket list" by completing the hands-on training for the Florida State Animal Rescue Coalition. Catherine enjoys hearing from her readers and can be found online daily. To receive an autographed bookmark, send a SASE to: P.O. Box 6065, Navarre, FL 32566